Reunited family still searches for two siblings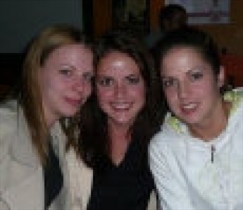 From left: Tracy Masters, Jennifer Rosati and Tina Simpson are sisters who found each other after being separated by adoption. They have also reunited with another sister and brother. They hope to connect with two other siblings who were adopted by a family in Waterloo Region.


KITCHENER — All Jennifer Rosati knew in the beginning was that she had an older sister who, like her, had been adopted at birth.

Rosati felt compelled to find her. Nine years ago, it happened. She tracked down her sister, Mandy.

But that turned out to be just the start of a journey that has now led the 33-year-old Windsor, Ont. woman to Waterloo Region.

After she found her sister, Rosati learned she had five more siblings. She's managed to track down all but two of them.

She's also been reunited with her birth father and just recently met her birth mother's relatives.

The family has planned a reunion for late August, and they want the two missing siblings to be there. That's where the Waterloo Region connection comes in.

Rosati said the last two children were born in the Waterloo area — a girl born around 1987 and a boy in 1989 — to Marlene Walsh and a man with the last name of Ellis.

They were adopted by the same parents and their adopted father was a professor at a local university. The couple fostered the children before adopting them.

"I assume they know they're adopted and there are other (siblings) out there," Rosati said.

She thinks someone has already been looking for a birth family.

Two years ago, Rosati's sister, Tracy Masters, got what Rosati calls a "mysterious phone call."

A man was looking for Tammy Walsh. Tracy was called Tammy by her birth parents but her name was changed after she was adopted.

Not thinking, she told the caller there was no one there by that name. It didn't hit her until afterwards that he may have been looking for a birth family.

She called back the number showing on call display and it turned out to be the University of Waterloo. But she had no extension or name, so hit a dead end.

Rosati has contacted Family and Children's Services in Kitchener, which is looking into her file. But the agency is only allowed to give out non-identifying information, said adoption supervisor Sue Maciaczyk.

She's checking to see if there's a local file on the missing siblings. If there is, she can tell Rosati their birth dates, whether they were adopted in this region, their first names and the first names of their birth parents. She can also say whether the siblings' adoptive father was a professor.

Rosati knew the agency wouldn't be able to put her in touch with her siblings. But she's happy to get any "tidbits" at all.

"I'm very hopeful," she said.

She registered with a government adoption registry over a decade ago, but hasn't yet registered with ServiceOntario, which has handled adoption disclosure since 2009.

Her only other route is to register on the Canadian Adoptees Registry, a free registry run by volunteers, but she fears it could take years to find them that way.

So she's turned to social media. She and her siblings have started a Facebook page, "Need Help Finding the Rest of Our Birth Siblings in Kitchener-Waterloo."

There's a large photo of four smiling women — Rosati and three sisters (a brother was absent).

"Through many twists of fate, the children of Marlene Walsh have found each other," they wrote. "However, we recently learned that there are two more children adopted to a professor in the Kitchener/Waterloo region. Please help us find the rest of our family."

Walsh died of an aneurysm in 2000 at age 38. She was the mother of all seven children. Three of them stayed with the family, but four were adopted.

Rosati is grateful to both her birth parents — she now has a good relationship with her father, who lives in British Columbia.

She knows her parents did what they had to do because they couldn't raise their children at the time, she said.

Her mother was severely addicted to Gravol, a medication that prevents and treats motion sickness, nausea and vomiting. She tried to get free, but often relapsed.

She also struggled with mental illness — Rosati thinks she had bipolar disorder and was probably self-medicating.

"I think she lived with a lot of guilt. She always had these children but was never in a state to keep them," she said.

Rosati said an aunt told her that her mother "had a lot of kids, but she wasn't with a lot of men. These men were the men she was with, and she loved every one of them.

"She was off and on with all of them. None of them spoke poorly about her," Rosati said.

Her birth father told her giving up some of his children was "the most difficult thing he ever had to do. He said it almost killed him," she said.

But she harbours no resentment. "They gave us a chance we wouldn't have had if they had kept us."

Rosati, a PhD student in forensic entomology at the University of Windsor, can't imagine life without her new-found family — her birth father, her sisters Mandy, Tracy and Tina and her brother, Tom.

"Even though we never grew up together … we're still connected," she said. "Once we found each other, we fell back into place.

"We all support each other. It's more than I ever would have imagined or expected.

"Knowing there's two more … we need to get them connected, too."

Anyone with information can contact Rosati at jenniferrosati@hotmail.com.
By Dianne Wood
Source: therecord.com
Read more