Siblings reunite 67 years later with brother they never knew existed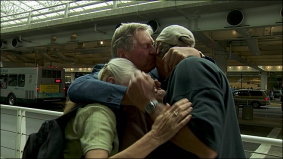 PORTLAND, Ore. – He had been searching for his siblings for decades. But they never knew they had a long-lost brother.

Sixty-seven years later, Heather Nelson and her brother, Kim, met that older brother, Anthony Leonard, at the Portland airport.

There were hugs, laughs, kisses and tears and even a "I love you, man." It's like they had known each other their whole lives.

But if you knew the whole story, you would know that's quite the contrary. You see, their mother, a young nurse, had been dating an American soldier during World War II. That soldier was sent to fight in Belgium and was gone for more than a year.

She thought he could be dead.

She did what many didn't talk about during that time period: She became pregnant with another man's child.

Later, she learned her soldier was alive and secretly gave up the baby for adoption before moving to the United States to marry the soldier.

Then, four months ago, Heather Nelson of Rhododendron, Ore., discovered the secret when the long-lost brother contacted them from where lives in England. With the help of professional agencies, Leonard tracked down his family and they've been emailing and Skyping for several months.

Friday was the family's emotional reunion, though their mother wasn't there to enjoy it. She died several years ago.

"I think she engineered it from heaven myself," Heather Nelson said. "That's what I think."

It was a moment that only a brother and sister can know.

About the new brother: He plans to stay in Oregon for a couple months while he gets to know his new family.
By Emily Sinovic, KATU News and KATU.com Staff
Source: katu.com
Read more