Fake telepaths arrested for swindling in Vietnam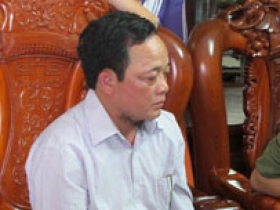 Nguyen Thanh Thuy, 54, was arrested at his house in Quang Tri Province Monday


Police in the north-central province of Quang Tri arrested a couple for allegedly cheating families of war martyrs out of billions of dongs by pretending to be telepaths to help the families find out the remains of the martyrs.

Nguyen Thanh Thuy, 54, and his wife Man Thi Duyen, 51, will be detained for four months pending investigations, police said after the arrest Monday.

According to police, the couple allegedly made up tombs with fake remains and then told the family of war martyrs that the remains belonged to their relatives.

They charged each family around VND100 million for each set of remains found.

According to police, Thuy used to be a police officer but was dismissed for fraud.

In 1995, Thuy met Duyen after divorcing his first wife. He and Duyen started introducing themselves as telepaths to find lost tombs for locals and people in other provinces.

In 1996, the couple was arrested in Bac Ninh Province for "fraud" and "illegal use of military weapons."

Thuy was then sentenced to 10 years and Duyen got 12 years.

After serving their term, they continued with their tricks. Thuy had been "finding" tombs for war martyrs since.
Thanh Nien News
Read more