Sarah went online to find a lover...and ended up on a blind date with her long lost BROTHER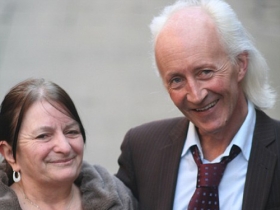 EXCLUSIVE: A cleaner signed up to a website and ended up on a blind date - with her long-lost brother.

A CLEANER signed up to a website and ended up on a blind date - with her long-lost brother.

Sarah Kemp, 42, swapped emails and photos with 47-year-old George Bentley.

But it was only when they met in a pub on their first date and talked about their childhood that they realised they were brother and sister.

Luckily, the penny dropped before any "kisses or fumbles" took place.

Last night, Sarah said: "Can you imagine the surprise, joy and embarrassment we both felt? It was such a crazy thing."

Sarah, from Edinburgh, added: "To meet your long-lost brother, in a bar, after over 30 years would be something by itself.

"But to meet him in those circumstances - on a date, for crying out loud - really is something else. We obviously had far more in common than first thought."

Sarah and George were born in Ashford, Kent, where they spent an "idyllic childhood" with parents Felicity and David Bentley.


But they lost touch in 1975, when the couple divorced.

Sarah, who was six, joined her mum in Edinburgh, while David, nine, went with his father to east London. Neither parent remarried, but the two families never spoke again.

As adults, Sarah and George tried to make contact, but had so little information that they were unable to trace each other's whereabouts.

The search was made more difficult when Sarah married in 1989. She divorced a decade later, but kept her husband's surname of Kemp.

George, 47, a builder, said: "I had absolutely no idea where she was. I was also searching for Sarah Bentleys, rather than Sarah Kemps, as I obviously didn't know she married.

"After a while, I think both Sarah and I gave up looking."

But against the odds, the siblings were reunited after joining casual dating site ForgetDinner.co.uk last November.

They began courting online and frequently exchanged emails and even photographs.

After three months, they decided to "bite the bullet" and met for lunch at The White Horse - George's local pub in East Ham - last weekend.

Sarah said: "I would never have agreed to go to London on a blind date, but we hit it off from the beginning and our relationship blossomed as we emailed each other more and more often.

"I love London anyway, so when he suggested we meet up I thought it would be a good opportunity to explore and have a mini-break in the city - as well as meeting George."

She added: "We had so much in common and we really enjoyed each other's company. It was as if we'd known each other all our lives."

After talking about their childhoods for more than an hour, the pair finally twigged that they were related.

Despite their embarrassment, they celebrated the reunion with a bottle of champagne - and spent the rest of the evening getting "slowly sozzled".

Since the date took place, the siblings have met twice more in Edinburgh.

George said: "This was the meeting of a lifetime and we are now planning to see each other as often as possible to catch up on the time spent apart."

A spokesman for bookies William Hill said the chances of the pair meeting in such a way were 500million-to-one.

He added: "They are unlucky in love, but clearly not in life."

Source: dailyrecord.co.uk
Read more